This Week in New York
http://twi-ny.com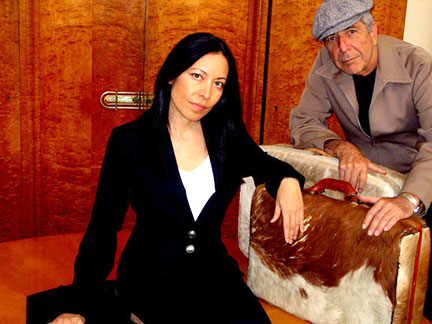 Riff's Rants & Raves

Brit Marling

Leonard Cohen, director Lian Lunson, and Bono behind the scenes

LEONARD COHEN: I'M YOUR MAN

(Lian Lunson, 2006)

Film Forum

209 West Houston St. between Sixth & Seventh Aves.

Opens Wednesday, June 21

Tickets: $10

212-727-8110

http://www.filmforum.org/films/leonard.html http://www.leonardcohenimyourman.com

On January 30, 2005, a group of performers handpicked by producer Hal Willner paid tribute to the great Canadian singer-songwriter Leonard Cohen at the Sydney Opera House in Australia. (A similar show took place at the Prospect Park Bandshell on June 28, 2003, as part of Celebrate Brooklyn!) Between and during songs, director Lian Lunson cuts in interviews not only with the evening's performers but also with Bono and the Edge from U2 as well as Cohen himself. An intensely thoughtful, intelligent man with mesmerizingly deep creases on his face, Cohen is often shot in extreme close-up as he talks about his unique creative process — it might takes weeks for him to come up with an acceptable line, and maybe an entire year to finish a song — in addition to his study of Buddhism, his legend as a ladies' man, the translation of his novel BEAUTIFUL LOSERS into Chinese, and his career in general. The performances are solid, if not necessarily inspiring: among the highlights are Nick Cave doing "I'm Your Man" and "Suzanne" (the latter with Cohen's backup singers Julie Christensen and Perla Batalla, who contribute their own lovely rendition of "Anthem"), Rufus and Martha Wainwright offering the stunningly beautiful "Hallelujah" (Rufus also takes on "Chelsea Hotel No. 2" and Martha "The Traitor"), Beth Orton contributing "Sisters of Mercy," Teddy Thompson playing "Tonight Will Be Fine," and Kate and Anna McGarrigle dueting on "Came So Far for Beauty." Also on the roster are the Handsome Family, Linda Thompson, Jarvis Cocker, and Antony, singing Cohen's poetic lyrics. Strangely, the film ends with Cohen himself performing "Tower of Song" with U2 at the Slipper Room, but it is obvious that Cohen is either lip-syncing or his voice was overdubbed later. If you don't know much about Cohen and his music, this film is a good place to start, but we highly recommend picking up such seminal albums as SONGS OF LEONARD COHEN, THE FUTURE, and the amazing I'M YOUR MAN.

Anjani and Cohen get together for new disc

ANJANI: BLUE ALERT (Columbia, 2006)

Available now

http://www.anjani-music.com http://leonardcohenfiles.com

You'll want to sit back with a cigarette and a strong whiskey while listening to this beautiful album from Anjani Thomas, the inimitable Leonard Cohen's longtime backup singer and constant companion. Touched by an unused Cohen lyric, Anjani went through boxes of Cohen's writings, finding inspiration in sometimes only a single line, which she then expanded with Cohen, working on the words together, but set to her own tender arrangements. (Cohen also coproduced the record, with Anjani and Ed Sanders.) "There's perfume burning in the air / Bits of beauty everywhere / Shrapnel flying; soldier hit the dirt / Blue Alert," Anjani sings on the title track, and indeed, there's bits of beauty to be found everywhere on the album. On the gorgeous late-night lament "Innermost Door," she sings, "When I am alone / You'll come back to me / It's happened before / It's called memory." In "The Golden Gate," haunting words set the scene: "Four o'clock and the fog comes in / We all remember the sea / For several seconds our sins are forgiven / Mine against yours, yours against mine." Greg Liesz contributes lap steel and Danny Frankel drums to the bluesy "Never Got to Love You." "The Mist" becomes a spare Irish ballad. Anjani uses a breathy, sadly erotic voice in "Crazy to Love You" as she remembers, "I had to go crazy to love you / Had to let everything fail / Had to be people I hated / Had to be no one at all." The record closes with the gorgeous "Thanks for the Dance," a waltz with John Lissauer adding clarinet and keyboards. Stay with this disc; give it a few spins and you'll find it, as Anjani sings in the noirish "Half the Perfect World," "transparent, weightless, luminous … unwilled, unleashed, unbound."

BOOK OF LONGING: LEONARD COHEN

(Ecco, May 2006)

http://www.harpercollins.com/global_scr ... 006112558X http://leonardcohenfiles.com

Leonard Cohen fans are in for a triple treat with BOOK OF LONGING, Cohen's first book in thirteen years and an excellent companion to Lian Lunson's documentary and Anjani's album. Mixing poetry, prose, and drawings, Cohen writes about love and loss, sex and death, drugs and deities, memory and Montreal, and the power of song with an engagingly self-deprecating sense of humor. "Do not decode / these cries of mine -- / They are the road, and not the sign" he explains cryptically in "All My News." A very loose self-portrait sketch is accompanied by the words, "I believe that you are standing in the place where I am supposed to be standing." He gives a sort of mission statement in "Something from the Early Seventies," discussing art, acid, and the Chelsea Hotel. "I know you had to lie to me / I know you had to cheat / To pose all hot and high behind / The veils of sheer deceit / Our perfect porn aristocrat / So elegant and cheap / I'm old but I'm still into that / A thousand kisses deep," he writes in "Thousand Kisses Deep," which the Handsome Family performed at the Sydney tribute concert. Although most of the writings are not identified by place and year, Cohen does point out those written when he was on Mt. Baldy, where he was known as Jikan and studied with his Roshi. Perhaps this sudden Cohen media explosion is best explained in "Delay": "'I can hold in a great deal; I don't speak / until the waters overflow their banks / and break through the dam' / Thus I was able to delay this book well beyond the end of the 20th century.'"