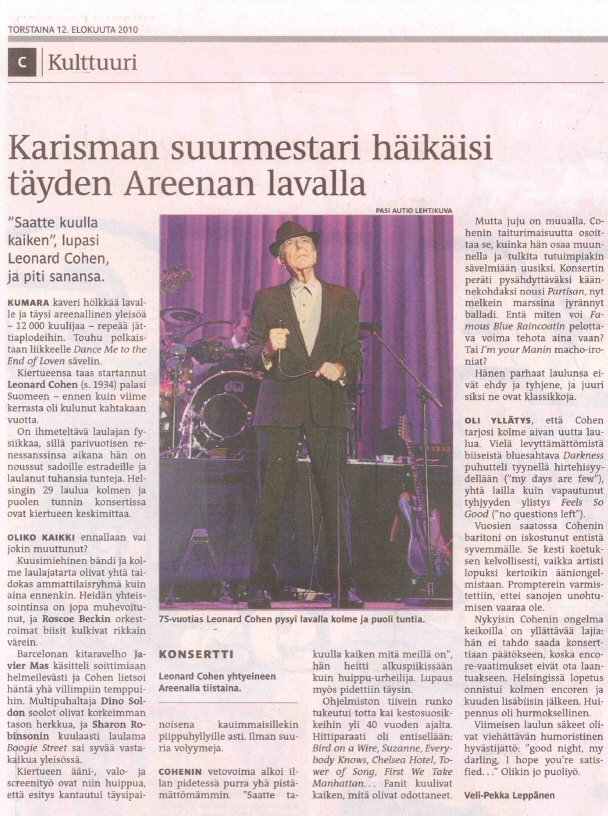 Here is Miia Lindström's translation of the concert review in Helsingin Sanomat, the leading daily newspaper in Finland. Thanks to Miia!
The Maestro of Charisma Blindered Full-Packed Arena in Helsinki

by Veli-Pekka Leppänen

"We'll give you all that we've got", Leonard Cohen said and kept his promise.

A stooped man jogs on stage and a full-packed arena of 12 000 bursts into a storm of applause. The concert is started up with the tones of

Dance Me to the End of Love

. Having started his tour again, Leonard Cohen (born in 1934) returned to Finland less than two years after his previous concert. The singer's physical condition is amazing; during his renaissance in the past couple of years he has sung on hundreds of stages for thousands of hours. The 29 songs in a three-and-half-hour concert in Helsinki represent an average-length concert during the tour.

Was it all as it used to be, or was something different? The band consisting of six men and three female singers made up as talented group of professionals as always. Their co-play has, if possible, become even more flourishing than two years ago and the tunes orchestrated by

Roscoe Beck

had rich tones. The Spanish guitar virtuoso Ja

vier Mas

kept a most beaded touch on his instruments, with Cohen instigating him into increasingly wild musical acrobatics. The solos by the one man's wind section

Dino Soldo

were delicacies of the finest degree, and

Sharon Robinson's

sensitive

Boogie Street

stroke a chord with the audience.

The sound, light and screen engineering were of such a high quality that the show came across to the gods of the large arena without a crack, without a need for inflated volumes.

Cohen's charisma appealed to the audience with an increasing power. "We'll give you all that we've got", he declared in his first words like a top-athlete; no doubt, he kept his promise. The concert was strongly built on Cohen's classics from the past 40 years. The hit parade was there:

Bird on a Wire, Suzanne, Everybody Knows, Chelsea Hotel, Tower of Song, First We Take Manhatta

n… The fans got what they wanted.

But this is just a fraction of the magic. A demonstration of Cohen's brilliancy is in his way of varying and interpreting even the most familiar songs into something fresh. A breath-taking turning point of the concert was

The Partisan

, a ballad that almost rolled like a march. And how can the awesome power of

Famous Blue Raincoat

enchant us again and again? Or the macho irony of

I'm Your Man

? His best songs just never fail, they never drain.

A thrilling surprise were the three new, yet unrecorded songs Cohen delivered. The bluesy

The Darkness

was expressed in subtle macabre ("my days are few"), and so was

Feels So Good

like an unrestrained celebration of emptiness ("no questions left").

Year after year Cohen's baritone has reached more profound tones. Again it stayed faithful to the singer, although after the concert Cohen revealed he had had a problem with his voice. Prompters were used to make sure the singer is constantly in tune with the lyrics [

SEE FOOTNOTE

!]

Cohen's major problem in his concerts is nowadays of a surprising kind: the endless passionate demands for encores hinder prevent his attempts to end the concert. In Helsinki this took three encores and six extras, bringing the concert to an ecstatic climax at the end. The lyrics of the final song served as a humorous farewell: "good night, my darling, I hope you're satisfied..." Well, it was midnight by then.
Footnote:
The critic has got this totally wrong. Leonard does NOT use any teleprompters - he sings all the lyrics from memory! This has been clear to us from the beginning, but I re-confirmed this with Ed Sanders today!