I love to look at pictures of Leonard. Whenever there is a magazine interview, it's the first thing I go to, the photos. I think I'm even a little obsessed and so the idea of doing a mosaic from a photo of Leonard is so appealing and interesting to me. But would it be to Leonard? Would you want to receive a picture of yourself done in mosaic? It is meaningful for the giver but I'm not sure the receiver would see it the same way. So, like others have suggested, I think we should consider something else besides a photo of Leonard.
I've been thinking about Leonard's drawings. He draws what is part of his everyday life. He does draw himself but more as a caricature, not really how we see him. He draws women, lots of women, some religious symbols but also chairs, the park outside his house, the vase on a table and his guitar. See below. So maybe we should be thinking along these lines as well. Perhaps we could create our own art combining objects that mean Leonard to us, the Unified Hearts, maybe his guitar, his hat, etc. The mosaic could be made combining these things, things that are meaningful to us and to him.
What do others think?
Marie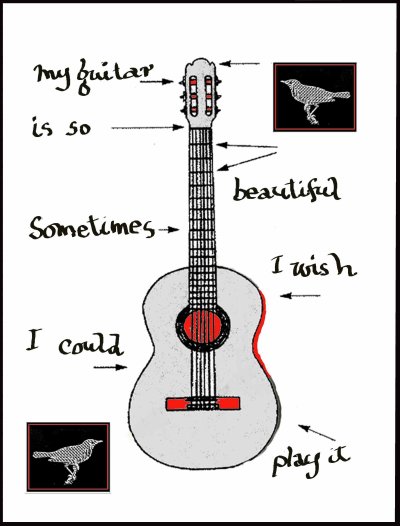 Copyright © 2004 Leonard Cohen.
Reprinted by Leonard Cohen's permission.
All rights reserved.