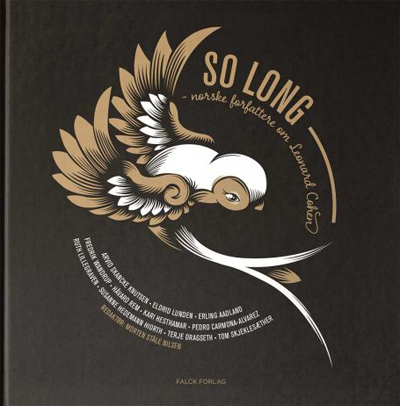 New Norwegian book:
SO LONG, LEONARD COHEN
Norske forfattere om Leonard Cohen
Eleven Norwegian authors and journalists write about Leonard Cohen, his life and work.
Leonard's exceptional popularity in Norway is discussed.
A selection of photos and list of all his concerts in Norway.
Articles by the following authors: Morten Ståle Nilsen (editor), Susanne Hedemann Hiorth, Håvard Rem, Eldrid Lunden, Terje Dragseth, Fredrik Wandrup, Arvid Skancke-Knutsen, Tom Skjeklesæther, Ruth Lillegraven, Erling Aadland, Kari Hesthamar. Pedro Carmona-Alvarez
Falck Förlag, Norway, April 18, 2017.
Language: Norwegian (bokmål)
ISBN: 9788293039662
Format: 21 x 21 cm,
164 pages, hard cover
Thanks to Anne Riise for the book!!!