Stanislaw Skubiszewski sent me this photo from Bruges and gave this link:
http://www.lesoir.be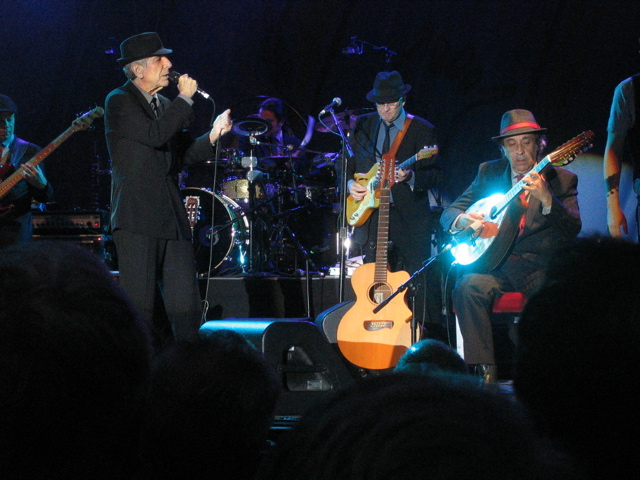 1988, 1993: Helsinki||2008: Manchester|Oslo|London O2|Berlin|Helsinki|London RAH||

2009:

New York Beacon|Berlin|Venice|Barcelona|Las Vegas|San José||2010: Salzburg|Helsinki|Gent|Bratislava|Las Vegas||

2012:

Gent|Helsinki|Verona||

2013:

New York|Pula|Oslo|||
Still in Belgium now, so a bit late on the report. As probably the only romanian around, I must say I had first a small "cultural" shock. Coming from a shiny 38 degrees, I did not expect I would have to face "the rain and sleet" to see Cohen. That put aside, though, it was all I've been dreaming for 10 years. At some moments it felt like all the sadness and worry I had in my heart were taken away and there was only peace in the world. At least for that night.
One word about the audience, since many people complained about audiences. I was rather up front (in line with the camera that filmed it all) and it would have been very hard to get out without bothering a lot of people very tightly packed. Well, for 4 hours, even during the intermission, no one around me budged an inch, despite the killing feet; and I got a lot of friends around, though I don't even know their names.
Laura
Nice to find some videos from Bruges on YouTube; but I would like it more to hear the great concert again than to see the not too sharp pictures.
Can someone tell me, if there is an mp3-bootleg of this show, that can be downloaded .
I would be happy!
Greetings from Germany!
Sorry they are pretty awful I'll put the two best up. I couln't put them all as the file was too big. If you really want to see them then pm me.
glyn
Thanks for the nice pix pope. I even liked the ones you considered to be bad.
Yeh I sent them to friends via email who I knew like Mr Cohen and they were 'raving' casue he looked so cool etc. If you want them all then pm me with your email address.
glyn
---
Who is online
Users browsing this forum: No registered users and 4 guests