Great photo's good stuff reminds me of the Lincoln UK event in 1998!
I have been a Leonard Cohen fan for 28 years feel free to email me if you wish to keep in touch!
Posts: 54
Joined: Wed Sep 14, 2005 9:41 pm
hey, some amazing photos there!
thanx a bunch, guys.
LC events need never die with fans like these: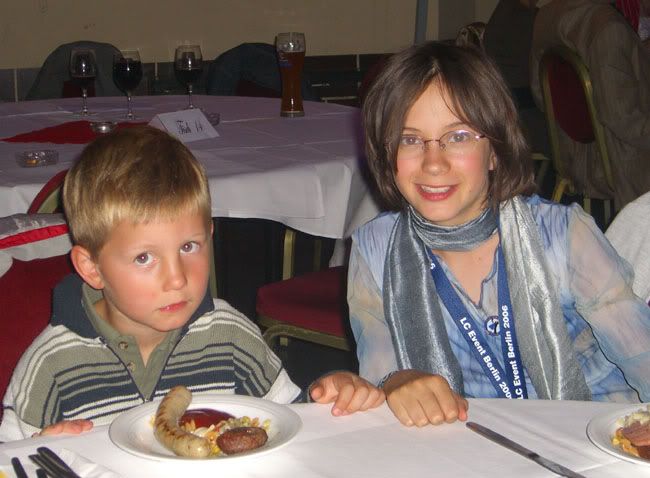 Posts: 31
Joined: Mon Aug 21, 2006 9:27 pm
Location: Belgium
This was the first LC Event I attented - the virus (positive) is spreading!
Performers, venues, Berlin itself: perfect.
I'm definitely aiming for Edmonton...
Say a prayer for the cowboy
What a fine looking group of people assembled. Thanks for the photos Pawel and Linda.

A couple of observations about your photos Linda. I suppose I shouldn't be, but I was amazed at the number of beautiful ladies who got Dicked.

Also from image #67 I would be interested to know what Joe was singing. There appears to be a halo above his head.
--
Paul.
Thanks Paul
I was very much trying to prove my reputation as ladies man .. Linda understands that I'm really harmless..
Joe had a halo all of the time, so that doesn't help recall the song!

Dear Dick,
I hereby officially give you permission to post the picture you took of my car (picture n° 7). I will not ask for copyright fees or whatever...
, nor will I start a lawsuit against you or the website

.
Thanks for the other great pics!
Take care,
Maarten

2008 Manchester | Bruges | Amsterdam | London | 2x Brussels | Rotterdam |2x London
2009 New York | Cologne | Antwerp | Venice | Colmar | Barcelona | Las Vegas | San José
2010 Salzburg | 2x Sligo | Helsinki | 3x Ghent | Lille | 2x Las Vegas
2012 5x Ghent | 2x A'dam | Helsinki | Dublin | Verona | 3x Paris | Lisboa
2013 Paris | Antwerp | Oberhausen | Brussels | Pula | Rotterdam | Amsterdam | 2x Wellington | Auckland
Wasn't sure who to ask ... THANKS for all the clearances.
Great Car!
Did you also have a tatoo, or is that just for our lady friends?

Think they also should be spread around the web more. All I saw are wonderful.
Dick
Hello Dick,

I love my car too! Although it's almost 17 years old, it still gets me to the most important places (Berlin, work,...). I went to the motor vehicle inspection just after I returned from Berlin, thinking this would have been it's "final journey", but I got a green card (!) so I can keep on loving my car for at least one more year. I'm afraid it won't last untill the Edmonton Event, and even if it did, I'd have to take a plane I guess...
My kids (2 sons of 5yrs and 3yrs old) call my car "the Leonard Cohen car" because it usually has a LC cd playing. They want me to get rid of it because "it's old and dirty and hard to steer (no servo) and it's damaged and we want a new one!".
But I'm still the boss around here! (just behind my wife, that is...).

See you in Edmonton, of course!

Maarten


(I'd trade my car for a picture of Leonard and myself though and no, I do not have a girlie tatoo...)

2008 Manchester | Bruges | Amsterdam | London | 2x Brussels | Rotterdam |2x London
2009 New York | Cologne | Antwerp | Venice | Colmar | Barcelona | Las Vegas | San José
2010 Salzburg | 2x Sligo | Helsinki | 3x Ghent | Lille | 2x Las Vegas
2012 5x Ghent | 2x A'dam | Helsinki | Dublin | Verona | 3x Paris | Lisboa
2013 Paris | Antwerp | Oberhausen | Brussels | Pula | Rotterdam | Amsterdam | 2x Wellington | Auckland