Leonard wants to introduce us Max Layton, Irving Layton's son, who is "a great singer-songwriter, and has just finished a very fine album"
From
http://www.cashboxcanada.ca/5196/max-la ... oved-album
:
Max Layton - A Leonard Cohen Approved Album

Submitted by Don Graham
Cover Photo Credit Eric G. McBride

Max Layton, son of Canadian literary icon Irving Layton has a new CD and although it's not officially released until June 8th, it already has people talking.

One person that it has talking is a Canadian icon in the music and literary world, none other than Leonard Cohen. In fact it was Cohen who taught a young Max how to play the guitar. "Leonard would bring his guitar to parties at my parents' house in Cote St. Luc when I was nine or ten. That's when I fell in love with the sound of it – and first met him. I remember him showing me how to play E minor ,the simplest two-finger chord, and me taking his guitar upstairs to my bedroom and cradling it in my arms and strumming it quietly while downstairs the partiers got louder. Leonard was a student at McGill and taught me guitar throughout the fall and winter of my 13th year. That would be 1959. My parents had separated by then and I was still living with my mother, Betty Sutherland, aka Boschka, who was an artist. Her painting is on the CD cover. Somehow she managed to buy me a guitar and she traded one of her paintings for the lessons, which consisted of Leonard teaching me chords and various finger-picking techniques. It took about an hour once a week to get downtown by bus, then a long climb carrying my guitar to the top of Mountain St. where Leonard had a bachelor apartment. I remember choking back tears when he told me he had taught me all he could."

Max's latest effort, 'It's a Mystery to Me', is the follow up to his critically acclaimed 2 the Max and when it was completed Max sent it over to his old friend, Leonard. "I sent it over one track at a time so as not to overwhelm him with 12 songs at once" Layton recalled over lunch one day. " I wasn't looking for approval, just an opinion from someone I respected as a writer. He was very gracious and listened to each one and gave a short comment about them. It brought a smile to my face. Nice!"

The album is artfully produced by the talented David Woodhead who also played on it along with guitar wizard Bob Cohen. Layton, Woodhead and Cohen are Montrealers by birth and the bond in the upbringing is evident in the way they perform together.

The first cut, 'Soca' , is a throwback type tune that will make you feel like you're in a coffee house in Montreal or Yorkville or Gerte's Folk City in Greenwich Village. Nicely done. 'Consider the Lillies' follows and 'Time Will Never Tell' is a retrospective question song about what might have been? Great descriptive lyrics, paints a true picture .

The title track 'It's Mystery to Me' is the mystery of love and devotion. A cool love song. 'Hug Your Honey'; good advice. The next offering, 'Lorelei' , is another great story song. In the words of Leonard Cohen "great twist on the old tale, glad you got away." Next up, 'I Sing Love' is a tribute to being grateful. Max is grateful for all he has. 'Sometimes in the Night', ah memories. A little like Mike Smith's 'The Dutchman'. 'Halfway to Heaven' is one my favourites. Everybody wants to go to heaven but nobody wants to go now! Leonard Cohen's take on this song "So glad you have an angel at your shoulder. Lucky man. Thanks for this happy song." The album closes with 'One Sunny Day'. A perfect way to close this set, or as Leonard said "what a sweet and beautiful winding up."

A final Leonard Cohen quote of the album. "Max you seem to be in very good shape, unusual confidence in the voice, you got something going Max with these songs." High praise from an icon.

This is a fine CD by a seasoned singer/songwriter and musician who is very comfortable with himself, his songs and what he has to say. The cool thing about somebody that's comfortable with themselves is it makes the audience and listeners comfortable . So grab a copy of It's a Mystery To Me and get comfortable.
You may read Max Layton's life-story at
http://www.maxlayton.com/ItsaMysterytoM ... fault.aspx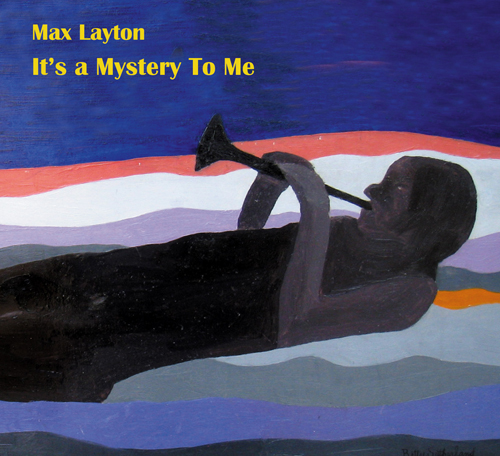 I was driving home a few years ago when I noticed that the sides of tall buildings seemed to have an inexplicable curve to them. Then I almost crashed into a car which I had not seen.

A few months later, I was legally blind.

The faces of my wife and friends became grotesque, distorted shadows - eyes where a mouth should have been, a missing forehead, a missing chin.

No longer able to drive, or work, or read, I retreated into the darkness of my room and wrote my first album, Heartbeat of Time.

My eyesight restored thanks to the miracle of modern medicine, my wife's beautiful eyes back where they ought to be, I wrote the songs for another CD. I felt I had been given a second chance, so I called it 2 The Max.

Now, looking back at the loves of my life, I think I see things more clearly and yet, as the title of my third CD suggests, It's A Mystery To Me. This is also the name of the most important song on the album – a heartfelt thank you to my wife, Sharon, who stuck by me during the dark, difficult years…
For more info, go to Max's website at
http://www.maxlayton.com